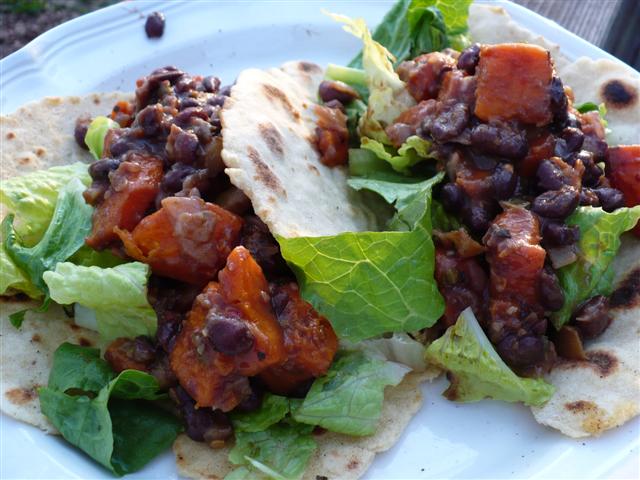 "Last of the Sweet Potatoes" Soft Tacos
(made 4 large soft tacos – which we ate in one sitting)
2 medium sweet potatoes, diced and boiled
1/2 onion, diced
1 jalepeno, diced
1 can black beans, drained
1/2 Gala Apple, diced
1 packet Guacamole seasoning*
Romaine lettuce, chopped
4 gluten free flour tortillas
Instructions:
1. Peel and dice two sweet potatoes and boil till tender.
2. While the potatoes are boiling, saute the diced onions and jalepeno in a large skillet.
3. Add the black beans, diced apple, and seasoning packet. Mix well.
4. Once the potatoes are done, gently stir them in with the other ingredients being careful not to accidentaly mash them. Turn the heat to low and let everything sit while you make the tortillas.
5. Top the tortillas with chopped Romain lettuce and then spoon on the filling and enjoy =)
* Update: If you don't have a packet of guacamole seasoning handy, try 1 tsp. cumin powder, 1/2 tsp. garlic powder, 1/2 tsp onion powder, and 1/8 – 1/4 tsp. ground red pepper.  We tried it last night and loved it. ~ Mary Frances